About SRF
Self-Realization Fellowship, a worldwide religious organization with international headquarters in Los Angeles, has been dedicated to carrying on the spiritual and humanitarian work of Paramahansa Yogananda. Through our worldwide service, we seek to foster a spirit of greater understanding and goodwill among the diverse people and nations of our global family, and to help those of all cultures and creeds to realize and express more fully in their lives the beauty, nobility, and divinity of the human spirit.
Paramahansa Yogananda founded Self-Realization Fellowship in 1920 to make available the universal teachings of Kriya Yoga, a sacred spiritual science originating millenniums ago in India. The society publishes Paramahansa Yogananda's writings, lectures, and recorded talks, and oversees temples, retreats, meditation centers, and the monastic communities of the Self-Realization Order. The society also guides the work of the Worldwide Prayer Circle, a network of groups and individuals dedicated to praying for those in need of physical, mental, or spiritual aid and for world peace and harmony.
YOGA MEDITATION METHODS TAUGHT BY PARAMAHANSA YOGANANDA
Central to Paramahansa Yogananda's teachings, which embody a complete philosophy and way of life, are scientific techniques of concentration and meditation that lead to the direct personal experience of God. These yoga methods quiet body and mind, and make it possible to withdraw one's energy and attention from the usual turbulence of thoughts, emotions, and sensory perceptions. In the clarity of that inner stillness one comes to experience a deepening interior peace and awareness of God's presence.
HOME-STUDY LESSON SERIES
Instruction in the practice of the techniques taught by Paramahansa Yogananda is presented in the Self-Realization Fellowship Lessons, a comprehensive home-study series compiled from his lectures and writings. Covering a wide range of topics, the Lessons offer his inspiring and practical guidance for achieving balanced physical, mental, and spiritual well-being.
LEADERSHIP OF THE SOCIETY
From its founding in 1920 until shortly before Paramahansa Yogananda's mahasamadhi in 1952, all of Self-Realization Fellowship's activities and organizational matters were personally directed by Yogananda himself. Thereafter, the leadership of his work passed to Rajarsi Janakananda, a close disciple of Paramahansaji's chosen by him to serve as president of SRF, a position he held from 1952 until his passing three years later.
Sri Daya Mata was the third president and spiritual head of Self-Realization Fellowship/Yogoda Satsanga Society of India. She was personally trained by Yogananda for more than twenty years, and became president and spiritual head of SRF/YSS after Rajarsi Janakananda's passing in 1955 — a position she held until her passing in 2010.
Sri Mrinalini Mata is the current president and spiritual head of Self-Realization Fellowship/Yogoda Satsanga Society of India. She too was personally chosen and trained by Yogananda to help guide the work after his passing.
She is assisted by a Board of Directors, which includes other direct disciples of Paramahansaji trained by him. In recent years additional monastics who have been trained by the direct disciples have been added to the Board. Thus SRF is and will continue to be guided by an unbroken succession of spiritual leadership based on firsthand contact with Paramahansa Yogananda himself.
Monks and nuns of the Order serve in many capacities in the society's ashram centers, travel to cities around the world to conduct lectures and classes and to lead retreats, and provide spiritual counsel and guidance – by phone, letter, and in person - to students of the Self-Realization Fellowship teachings.
IN INDIA (YOGODA SATSANGA SOCIETY OF INDIA)
Paramahansa Yogananda's society is known in India as Yogoda Satsanga Society of India. Founded by him in 1917, and headquartered in Dakshineswar (near Calcutta), Yogoda Satsanga Society oversees 90 meditation centers, 21 educational institutions, and a variety of charitable facilities.
TEMPLES AND MEDITATION CENTERS
At Self-Realization Fellowship's Temples and nearly 500 meditation centers, located in 54 countries, students of Paramahansa Yogananda's teachings meet for inspirational and prayer services, meditation, and spiritual fellowship. The meetings include readings from Yogananda's writings, as well as periods of meditation and devotional chanting. Several of our temples were established by Yogananda during his lifetime and have become places of pilgrimage for visitors from all parts of the world. Services at the temples are generally conducted by monks of the Self-Realization Order. (For more information, see SRF temples and Meditation Centers.)
RETREATS AND LECTURE TOURS
At our Self-Realization Fellowship Retreats, and during our lecture tours and retreat programs in cities throughout the United States and other countries, we offer in-depth classes on the meditation techniques and spiritual way of life taught by Paramahansa Yogananda. (See Lecture Tours and Retreats for more information about this year's tours).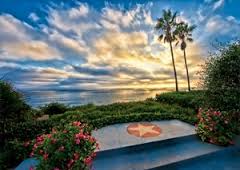 Encinitas Ashram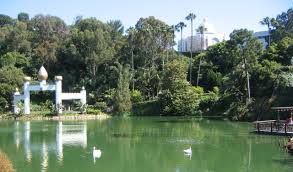 Lake Shrine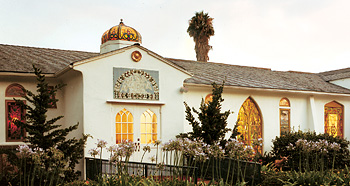 Hollywood Temple